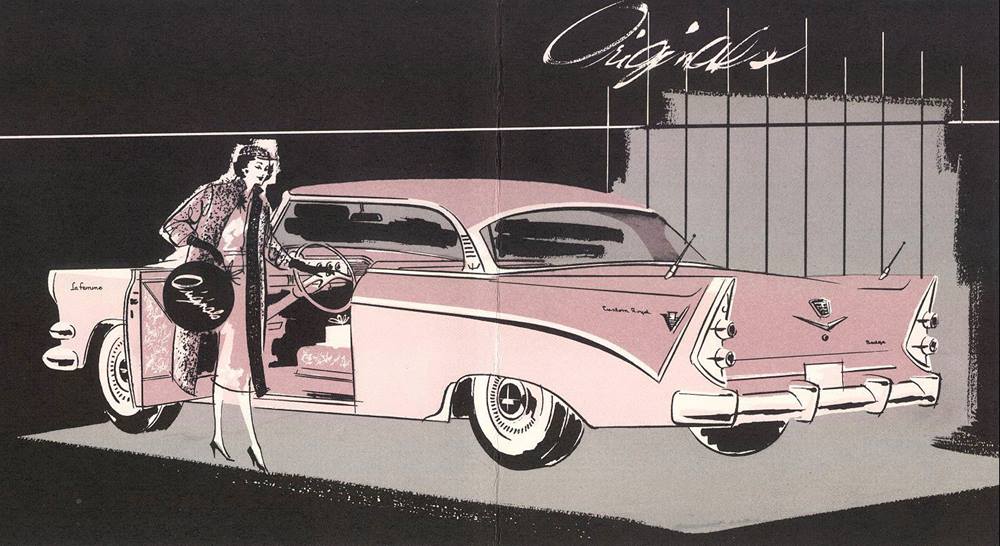 A recent article on Hagerty.com looked back at a notable and somewhat notorious failed attempt of an American automaker to develop an automobile specifically for the woman driver. In 1955, Chrysler introduced La Femme, with the intention of directing a perceived wealth of "lady-dollars" to its rebranded, repainted, and reappointed Dodge Royal Lancer. The thinking – by the group of male engineers, designers, and marketers – was that women would be innately attracted to an automotive product and package that included a heather rose and pearl paint application, brocatelle upholstery, accompanied by a complement of accessories that included a matching lipstick case, cigarette lighter, compact, change purse, rain cape, rain hat, umbrella, and purse, all coordinating with the Jacquard car interior. Not surprisingly, women's response to La Femme was lukewarm at best. After a two year production run with only 1500 cars sold, the pink and white behemoth drove off quietly into automotive history.
This was not the first, nor the last, attempt by auto manufacturers to designate a particular vehicle as the "woman's car." In the early auto age, when the introduction of the fast and powerful gasoline automobile threatened the future of the electric car, automakers rebranded the electric as perfectly suited for the woman behind the wheel. The qualities that differentiated the electric from its gas-powered successor – clean, quiet, easy to handle, stylish, and with limited power and range – were promoted as appropriate for the "feminine" characteristics of cleanliness, physical weakness, and domesticity. However, although Clara Ford was gifted an electric vehicle by her auto mogul husband Henry, the majority of driving women desired the power, performance, and range of the gasoline powered automobile. It wasn't long before women passed over the electric in favor of the ever-expanding lineup of combustion engine cars.
During the 1980s, car manufacturers began to consider women as a potentially important demographic for trucks and vans. Yet rather than addressing women as serious consumers, advertisers once again called upon "feminine" stereotypes to promote vehicles to women. Because the Chevy S-10 Blazer was purchased primarily by men, marketers believed that a "pink truck" campaign would convince potential female customers to consider the off-road vehicle. As Ella Howard writes, "although trucks are often associated with masculinity, readers here saw one bathed in pastels, and were assured that a woman driving a Blazer need not be unfeminine" (137). Women in the market for a vehicle, however, found the use of pastel colors and "other gimmicky features" in these advertising attempts to be offensive and condescending. If women did, in fact, purchase a Chevy Blazer, it was in spite of, rather than due to, the stereotypical visions of gender reflected in the print advertising campaign.
In my own work on women's involvement in various car cultures – including chick cars, muscle cars, and pickup trucks – I discovered that what a woman wants in a vehicle is personal. Whether looking for an automobile that is sporty, tough, powerful, or simply fun to drive, female motorists make choices based on their own preferences, needs, and desires. While women – at some point in their lives – may adhere to gender prescriptions in the purchase of a certifiable "mom" vehicle – i.e. wagon, minivan, crossover, or small SUV – when freed from parental responsibilities, or in defiance of them, they are likely to select vehicles that offer independence, autonomy, and empowerment. Rather than being seduced by a pretty paint job or feminine accoutrements, they drive off in a vehicle that says "this is who I am."
Over the past century, auto makers have been slow to understand that it is difficult, if not impossible, to produce a vehicle specifically for the woman driver. As I have learned in my various explorations into the relationship between women and automobiles, "what women want" is to make their own choices about who they are and what they will drive.
Howard, Ella. "Pink Truck Ads: Second-Wave Feminism and Gendered Marketing." Journal of Women's History 22.4 (Winter 2010): 137-161.
Hunting, Benjamin. "How the 1955 Dodge La Femme Missed the Mark on Designing Cars for Women." Hagerty.com 10 Feb 2020. Accessed 18 Feb 2020.
What are your feelings about a 'woman's car'? Is there such a thing? What are the qualities that make a car appealing to the woman driver? Your opinions are welcome!