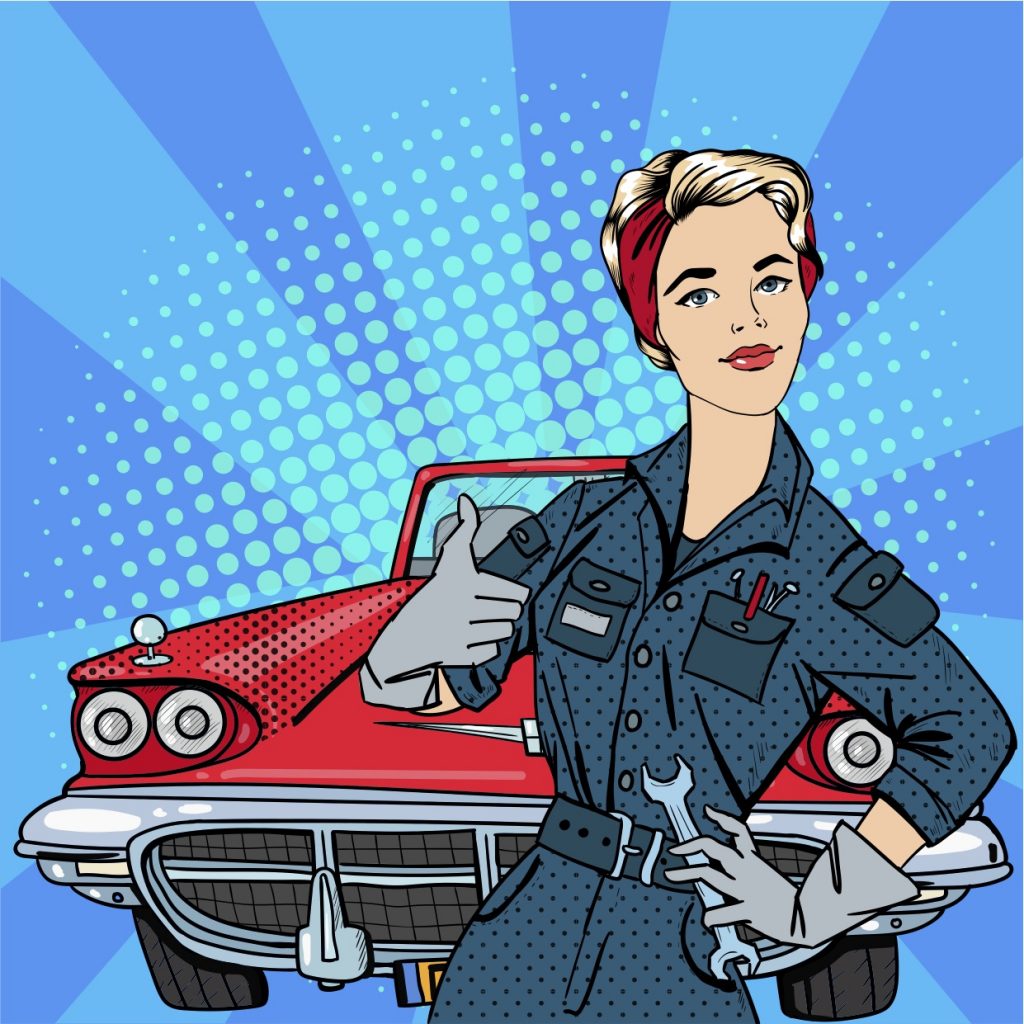 RECENT
McCann & Me: One Woman's Experience in Detroit Automotive Advertising
This paper is a personal account of the three years I spent working in the creative department of McCann-Erickson during the early 1980s. It describes the automotive advertising process from concept to production, discusses the campaigns I worked on for Buick and other clients, and reflects upon some of the challenges I faced as a female in the very male dominated automotive culture.

AUTOMOTIVE HISTORY REVIEW 62 (Spring 2021): 4-16.
A Woman and Her Truck: Pickups, the Woman Driver, and Cowgirl Feminism
This project addresses the woman driver's growing, yet often unacknowledged, interest in the pickup truck not only as a mode of transportation, but also as a source of identity formation. Citing a 2013 Chevrolet Silverado Commercial – "A Woman and her Truck" – it investigates how female pickup drivers often assume cowgirl personas as a means to gain access into an automotive culture traditionally associated with masculinity, and to establish themselves as exceptional woman drivers. Developed through interviews conducted with 25 female truck owners, this paper employs the lens of cowgirl feminism – a concept coined by Laura Jane Moore in her historical examination of the National Cowgirl Hall of Fame – to consider how the woman driver as cowgirl calls upon the pickup truck as an important site of autonomy, meaning making, and empowerment.

European Journal of American Culture 38.2 (June 2019): 135-153.
Born to Drive: Elderly Women's Recollections of Early Automotive Experiences
Much of women's automotive experience is hidden due to the automobile's longstanding association with masculinity. This project is drawn from interviews from women in their 80s and 90s who came of age during an era in which women were discouraged from driving. It not only uncovers the various strategies women employed to overcome obstacles to automobility, but also provides important evidence of women's longstanding enthusiasm for cars and the driving experience.

The Journal of Transport History 40.3 (December 2019).
Where on the Web is Dorothy Haener?: Recovering Dorothy Haener from Labor, Automotive, and Women's History
Dorothy Haener was the first woman elected to a negotiating committee in the UAW, a board member of the UAW's Women's Committee, and was a founding member of the National Organization for Women. However, despite Haener's considerable accomplishments, her online presence is nearly invisible. This paper attempts to not only bring attention to Haener's pioneering work for women's rights, but through her complicated labor and feminist history, offers a possible explanation as well as a potential remedy for Haener's exclusion from these important online locations.

Automotive History Review 59 (2019): 34-49.
FUTURE
What Would Miss Daisy Drive? The Road Trip Film, the Automobile, and the Woman Behind the Wheel
This paper in progress examines the relationship between a woman and her automobile in a variety of road trip films. Focusing on the car rather than the journey, the project encourages us to reassess the roll of the automobile in film, to expand our understanding of the road trip genre to include the female driver, as well as to broaden our notion of women's car choice to include considerations of identity, agency, friendship, family, and empowerment.

THE JOURNAL OF POPULAR CULTURE – MANUSCRIPT IN PRESS
From Powder Puff to W Series: The Evolution of Women-Only Racing in Motorsport History
This chapter in an upcoming book of essays on motorsports explores the chronology and controversy of all-female racing events, and considers how women-only racing complicates, facilitates, and liberates women's entry, participation, and recognition in the masculine world of motorsports.

in Lives in the fast lane: essays on the history and Politics of Motor racing – manuscript in press
Pink Power: The Barbie Car and Female Automobility
This project focuses on the role of the Barbie car in expanding the automotive world to those -in particular impressionable young girls – who might otherwise feel excluded from it. While acknowledging the ways in which the Barbie phenomenon reinforces stereotypical displays of femininity, it also argues that the vehicles in which Barbie – not Ken – is the driver have the opportunity to promote independence, agency, identity, and empowerment in the future woman driver.

This paper will be presented at the Popular Culture Association National Conference in June 2021.
Real Racers Turn in Both Directions: Autocross and the Woman Driver
This project examines women's growing involvement in the motorsport of autocross, an accessible and challenging timed competition in which drivers navigate a unique course defined by cones or pylons. Relying on interviews with female participants, as well as in-person observation at autocross events, this research will investigate how and why women become involved in autocross, the ways in which women have negotiated entry into a historically masculine environment, and how the autocross experience can contribute to women's identity, confidence, self-knowledge, and empowerment.
Women Writing Cars: The Experiences of Female Auto Journalists
This project will focus on three accomplished female auto journalists who work in a variety of media. Through interviews, as well as an examination of their collected body of work, I hope to uncover not only the strategies women employ to overcome obstacles in a male dominated field, but also how the writers call upon their own automotive experiences as women to add an important and often missing point of view to auto journalism.
This is Not My Husband's Jeep: Women On and Off the Road
This is a qualitative research project that will focus on female owners of Jeeps and other off-road vehicles.