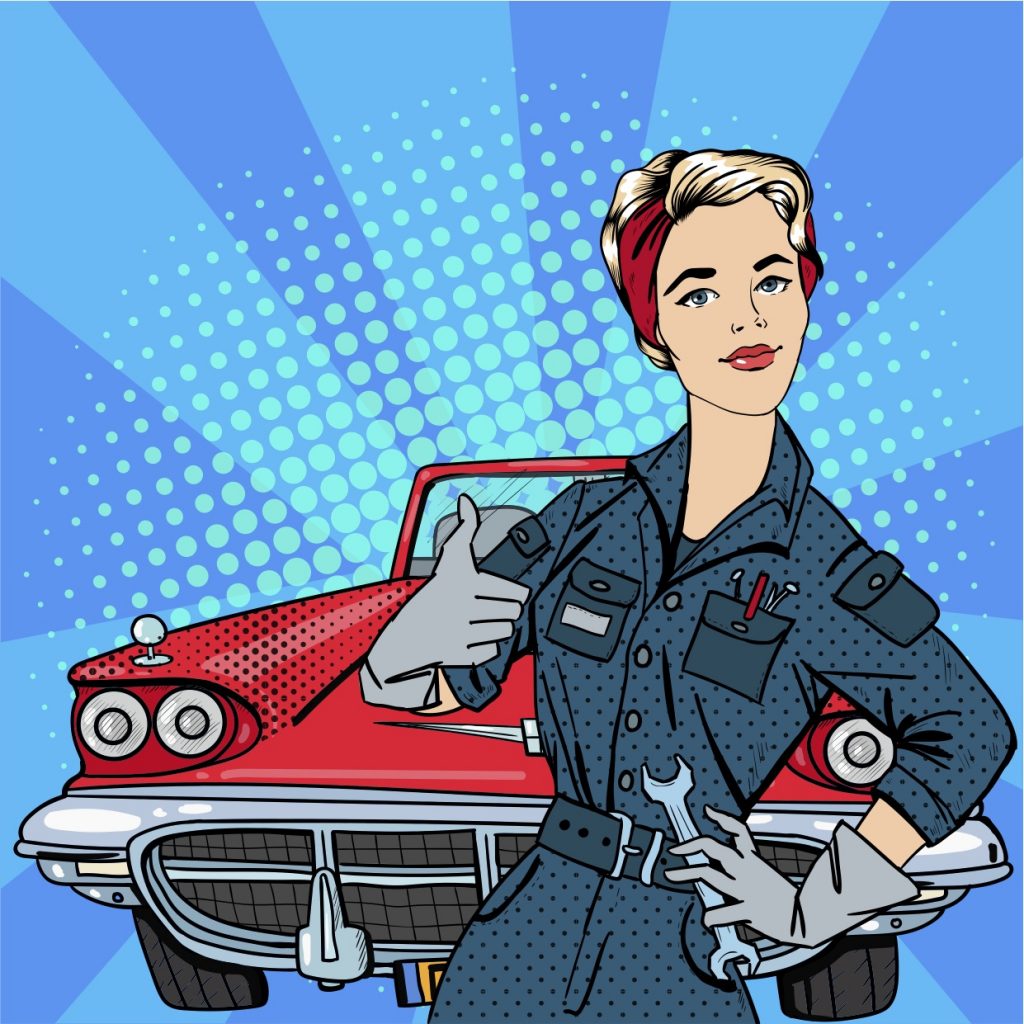 RECENT
What Would Miss Daisy Drive? The Road Trip Film, the Automobile, and the Woman Behind the Wheel
This paper examines the relationship between a woman and her automobile in a variety of road trip films. Focusing on the car rather than the journey, the project encourages us to reassess the roll of the automobile in film, to expand our understanding of the road trip genre to include the female driver, as well as to broaden our notion of women's car choice to include considerations of identity, agency, friendship, family, and empowerment.

THE JOURNAL OF POPULAR CULTURE 54.5 (October 2021): 987-1011.
McCann & Me: One Woman's Experience in Detroit Automotive Advertising
This paper is a personal account of the three years I spent working in the creative department of McCann-Erickson during the early 1980s. It describes the automotive advertising process from concept to production, discusses the campaigns I worked on for Buick and other clients, and reflects upon some of the challenges I faced as a female in the very male dominated automotive culture.

AUTOMOTIVE HISTORY REVIEW 62 (Spring 2021): 4-16.
A Woman and Her Truck: Pickups, the Woman Driver, and Cowgirl Feminism
This project addresses the woman driver's growing, yet often unacknowledged, interest in the pickup truck not only as a mode of transportation, but also as a source of identity formation. Citing a 2013 Chevrolet Silverado Commercial – "A Woman and her Truck" – it investigates how female pickup drivers often assume cowgirl personas as a means to gain access into an automotive culture traditionally associated with masculinity, and to establish themselves as exceptional woman drivers. Developed through interviews conducted with 25 female truck owners, this paper employs the lens of cowgirl feminism – a concept coined by Laura Jane Moore in her historical examination of the National Cowgirl Hall of Fame – to consider how the woman driver as cowgirl calls upon the pickup truck as an important site of autonomy, meaning making, and empowerment.

European Journal of American Culture 38.2 (June 2019): 135-153.
Born to Drive: Elderly Women's Recollections of Early Automotive Experiences
Much of women's automotive experience is hidden due to the automobile's longstanding association with masculinity. This project is drawn from interviews from women in their 80s and 90s who came of age during an era in which women were discouraged from driving. It not only uncovers the various strategies women employed to overcome obstacles to automobility, but also provides important evidence of women's longstanding enthusiasm for cars and the driving experience.

The Journal of Transport History 40.3 (December 2019): 395-417.
FUTURE
Women & Automobiles Across Two Continents: An [Unfortunately] Brief Historiography of Women's Automotive Scholarship in Australia and America
The first automotive histories – of auto companies, auto industry leaders, and cultural accounts of the automobile's impact – appeared in the early 1920s. The first recognized scholarly examination of automotive history – John Rae's The American Automobile: A Brief History – was published in 1965. Over the next three decades a number of additional works established automotive history as an important and legitimate subject for scholarly inquiry and research. Yet among these publications – which examined the history and influence of the automobile from a variety of disciplines and perspectives  – was a notable absence; very few referred to women's automotive practices, impact, or contributions. It wasn't until 1991 that Virginia Scharff's pathbreaking investigation of early female motorists in the US – Taking the Wheel – altered automotive history from a solely masculine enterprise to one that included the contributions and influence of women drivers. In 2008, Australian historian Georgine Clarsen extended Scharff's work in Eat My Dust – a comprehensive account that examines how British, American, and Australian women employed differing techniques and strategies to become recognized as legitimate automobile owners and drivers. Although other significant work has followed, there remains a dearth of literature devoted to the various histories of women and the automobile.

This historiography will examine the trajectory of women's automotive history scholarship in both Australia and the US to consider how women's automotive participation has been addressed in each location – the overlaps and dissimilarities; the importance of a gendered perspective to traditional automotive histories; as well as to reflect upon future opportunities for the study of women and cars.

This paper will be presented at the joint SAH/AHA Wheels Across the Pacific: Transnational Histories of the Automotive Industry Virtual Symposium in September 2022.
From Powder Puff to W Series: The Evolution of Women-Only Racing in Motorsport History
This chapter in an upcoming book of essays on motorsports explores the chronology and controversy of all-female racing events, and considers how women-only racing complicates, facilitates, and liberates women's entry, participation, and recognition in the masculine world of motorsports.

in Lives in the fast lane: essays on the history and Politics of Motor racing – manuscript in press
Pink Power: The Barbie Car and Female Automobility
This project focuses on the role of the Barbie car in expanding the automotive world to those -in particular impressionable young girls – who might otherwise feel excluded from it. While acknowledging the ways in which the Barbie phenomenon reinforces stereotypical displays of femininity, it also argues that the vehicles in which Barbie – not Ken – is the driver have the opportunity to promote independence, agency, identity, and empowerment in the future woman driver.

This paper will be presented at the Popular Culture Association National Conference in June 2021.
Real Racers Turn in Both Directions: Autocross and the Woman Driver
This project examines women's growing involvement in the motorsport of autocross, an accessible and challenging timed competition in which drivers navigate a unique course defined by cones or pylons. Relying on interviews with female participants, as well as in-person observation at autocross events, this research will investigate how and why women become involved in autocross, the ways in which women have negotiated entry into a historically masculine environment, and how the autocross experience can contribute to women's identity, confidence, self-knowledge, and empowerment.

This paper will be presented at the Argetsinger Symposium on Auto Racing History in Watkins Glen NY in November 2022.
Women Writing Cars: The Experiences of Female Auto Journalists
This project will focus on three accomplished female auto journalists who work in a variety of media. Through interviews, as well as an examination of their collected body of work, I hope to uncover not only the strategies women employ to overcome obstacles in a male dominated field, but also how the writers call upon their own automotive experiences as women to add an important and often missing point of view to auto journalism.
This is Not My Husband's Jeep: Women On and Off the Road
This is a qualitative research project that will focus on female owners of Jeeps and other off-road vehicles.
Who Drives Automotive History? The Representation of Women in America's Automotive Museums
While there have been many histories devoted to the automobile since it first appeared on the American scene in the early twentieth century, very few pay particular attention to women's automotive involvement or interest. This absence is not only evident in the thousands of publications devoted to automotive history, but in locations such as the automotive museum as well. This project will examine the representation of the women driver in a dozen automotive museums in auto-centric Michigan and the surrounding areas. It will consider how each museum positions the role of women in automotive history, the methods by which women's automotive involvement and impact is displayed, how women's presence in automotive history is regarded in comparison to that of men, and perhaps offer suggestions as to how museums might better address the role and influence of women in automotive history and American culture.
Female Auto Education: A History of Women's Car Advice Manuals
Dorothy Levitt penned the first published car advice manual for women in 1909. Over the next 100 plus years dozens of similar books and online sites would follow, addressing issues such as how to purchase a car, how to deal with automotive service personnel, and how to repair and maintain one's own vehicle. This project will look at a selection of car advice manuals specifically directed toward woman produced since the early twentieth century to consider the type of information found in these manuals, how content differs from that found in similar publications for the general or male automotive audience, and if and why female-oriented manuals continue to be necessary.