With a couple of aging cars and an upcoming change of lifestyle, it was time to replace our modes of transport. I loved my 2015 Golf R, but as a car with little tech [not even Apple Play!] I had driven for 8 years and 45,000 miles, I was ready for something new. I had originally planned on updating it with the 2023 model but the wait time was more than I was willing to endure. Plus, as I tend to own my cars for a long time, I didn't think it would be safe as an eventual 80-year-old to get behind the wheel of a vehicle that went 0-60 in less than 4 seconds. However, since I love German cars, particularly VWs, I opted for a 2023 VW GTI. And as we were moving to downtown Ann Arbor, with short blocks that can be rather hilly, I quashed my desire for a 6-speed manual and opted for the pretty quick [0-60 in 5.1] 7-speed DSG. With front-wheel rather than all-wheel drive, it is a different driving experience but still a very enjoyable ride. And the tech! After a few months I am still learning all of what my car can do. But most of the things I loved about my Golf R remain – the responsive steering, the compact, perfect-for-me size, the simple yet pleasing design inside and out, the surprisingly spacious cargo area, and most importantly, the elements that make it so very 'fun to drive.' We took it on a baseball road trip this past summer and it was comfortable but not cushy, had plenty of space for our gear, and got better gas mileage [on regular rather than premium fuel!] than the R. And since my husband and I will be sharing the car [he traded in his Audi and 2016 R] it was important that we both enjoy it. And we do.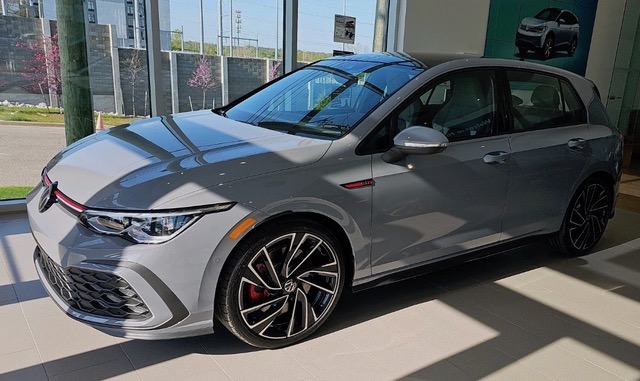 Our other trade in was more utilitarian. For the past 30 years we have owned what we affectionally called a 'dog' vehicle. As breeders and exhibitors of bullmastiffs, we always drove a standard van that could carry at least five very large dogs. We opted for a RAM City Wagon a few years back, but traded up for the more spacious RAM Promaster which was perhaps the best canine transportation we had owned in our 30 years of breeding and showing dogs. However, after retiring from the dog world four years ago, we were down to two dogs so desired something smaller and more easy to maneuver in the city. We originally considered a large SUV, but the high entry point and the difficulty fitting two large crates in the back made us rethink our choice. After considering all of the options, we opted for – dare I say – a minivan. We chose a KIA which, as it turns out, has easy entry and plenty of space for two large dogs. It is also way more comfortable and has way more tech than the ProMaster. And most importantly, the 'girls' love it.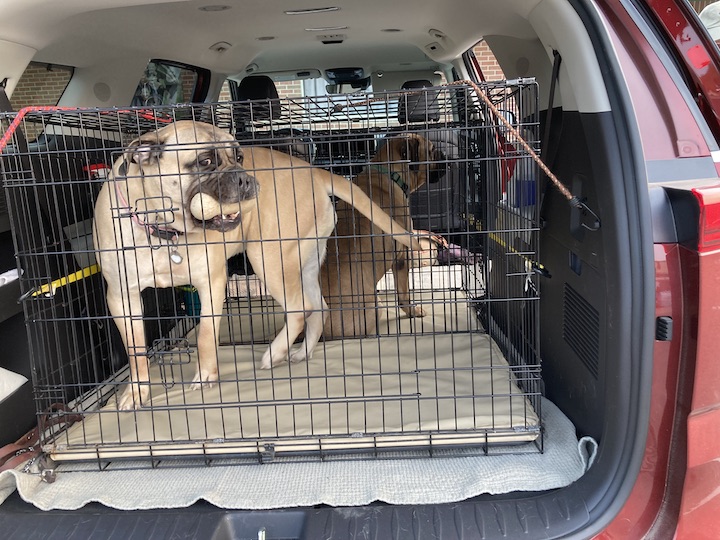 We have since [very recently] moved from 18 rural acres to a condo in the heart of downtown Ann Arbor. With much of what we do now within walking distance, our dependence on cars has been dramatically reduced. With a carport rather than [multiple] garages, the two new vehicles are fitting well into our new and very different lifestyle.