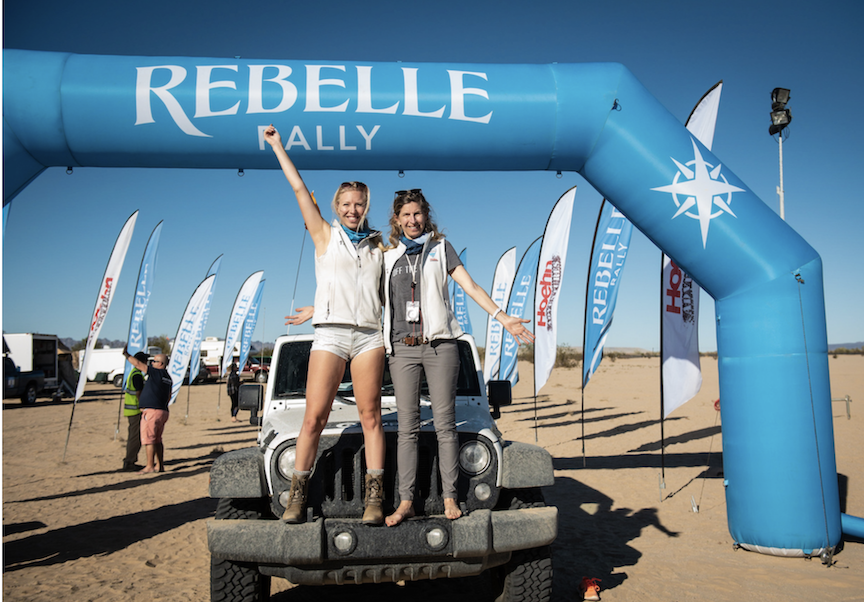 One of my current research projects came to me as a request to examine the history and politics of women in motorsports. Because this is a rather broad and unwieldy topic, I decided to focus specifically on women-only racing, from its early introduction as a media stunt to its current incarnation as a proving ground for serious female open wheel racers. I am looking at how and why these women-only events and/or ladies categories were formed; who participates in these activities; what kind of competitions does the women-only category encompass; as well as the reception such races have received from drivers and the racing community. As I knew very little about motorsports in general and women-only racing in particular when embarking on this project, it has been interesting to learn about the various events and how they have attracted a female following.
One of the annual all-female events that came to my attention is the Rebelle Rally, now in its fifth year. It is the longest competitive off-road rally in the United States, and entries are limited to women. Rather than a race for speed, Rebelle Rally is a test of driving precision and navigation skills, "a unique and demanding precision event based the elements of time, distance, headings, and hidden checkpoints using maps, compass, and roadbook" (Segura). It is a combination of geocaching and off-roading that covers more than 1200 miles in the California and Nevada deserts over eight days; cell phones, GPS tracking devices, and outside assistance are prohibited. The goal is to complete the rally with the most points; checkpoints range in difficulty based on location, how large the geofenced area is, and how difficult it is to get close to it (Bassett). The rally has grown each year with many repeat competitors; the 2020 Rebelle Rally included 36 two-women driver-navigator teams as well as a large support staff.
What I found most interesting about the Rebelle Rally is the way in which it is unabashedly women centered. In an interview for Automobile, founder Emily Miller frames the rally as an empowering event for women. As she explains, "Rebelle Rally is important because it gives women a platform to showcase their driving skills. [My hope is that] through doing the Rebelle, women will become more competent, skilled, and have the confidence to use their voice" (Segura). While certainly the objective of any competition is to win, the Rebelle Rally offers more to its female competitors. The event's Facebook page promotes it as a source of female competence, confidence, and community. Rebelle Rally is extremely challenging; as such, notes the founder, it provides the means for women to acquire a belief in themselves. While all racing events have the potential to hone and develop driving skills and build confidence behind the wheel, there is something about all-female events such as Rebelle Rally especially beneficial to women.
Motorsports is one of the few competitive venues in which men and women are allowed to compete on a level playing field. Yet the participation of women in mixed-racing events remains remarkably low. Certainly the costs and lack of sponsorship deters women from racing at a high level. And although detractors label women-only racing as demeaning, patronizing, and unnecessary, there are qualities that appeal to a large number of female auto enthusiasts. Perhaps it is because of the camaraderie and community that forms when women tackle a challenge together. Perhaps it is because all-female events allow women to develop skills, knowledge, and confidence without the criticism, intimidation, and yes, sexism, of male competitors. Rebelle Rally provides a way for women to succeed – not only on the road, the course, and on the track – but also in many other aspects of their lives. As founder Miller exclaims, "When these women finish this rally they'll walk away knowing they can go anywhere" (Bassett).
For more information check out RebelleRally.com
Bassett, Abigail. "The Rebelle Rally is the Real Deal." autoweek.com 12 Nov 2020.
Segura, Eleonor Segura. "Rebelle Rally Founder Emily Miller is a Total Off-Road Warrior." automobilemag.com 25 Nov 2019.