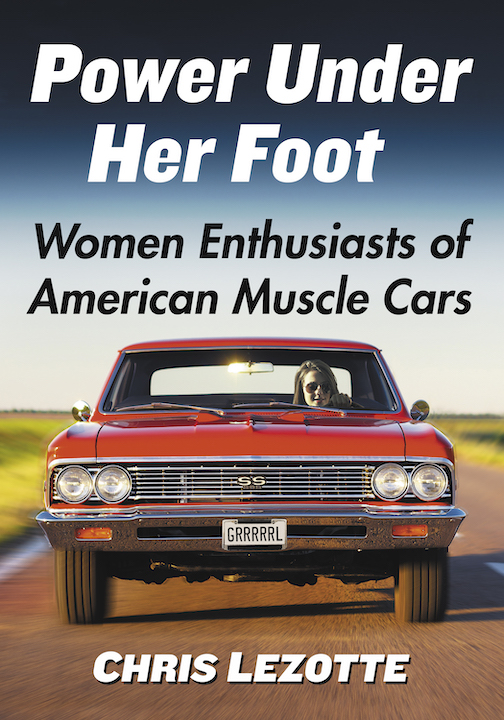 Power Under Her Foot: Women Enthusiasts of American Muscle Cars
Since their introduction in 1964, American muscle cars have been closely associated with the male driver. In the 21st century, women have become a growing presence in the muscle car community, exhibiting classic cars at automotive events and rumbling to work in modern-day Mustangs, Camaros, and Challengers.
Gathered from the experiences of 88 female muscle car enthusiasts, Power Under Her Foot: Women Enthusiasts of American Muscle Cars highlights women's admiration and passion for American muscle, examines how restoring, driving, and showing classic and modern cars provides a means to challenge longstanding perceptions of women drivers, and reveals how muscle car ownership can serve as an important source of female identity, well-being, and empowerment.
Reviews
Eighty-eight female American muscle car enthusiasts were interviewed for this volume, which is full of individual stories and photos of the women and their cars…. Lezotte has found an untapped niche in the area of women and muscle cars…. It was refreshing to examine a book about women drivers that is not a guidebook, handbook, or manual claiming to provide everything a woman should know about car maintenance or operation…. recommended.

Choice Connect 56.4 December 2018.
You don't have to be a gender-identity scholar to find this topic fascinating, and this book an important read.

Mark McCourt. HEMMINGS MUSCLE MACHINES. September 2018, 12.
Mobilizing her 'Motor City upbringing', 'advertising career', as well as graduate and post-graduate research, Chris Lezotte documents a significant, yet largely unrecognized, cohort in muscle car culture: women drivers and, later, owners… Power Under Her Foot explores how respondents' passions have been expressed, as well as limited and shaped, by car culture's hegemonic masculinity and how conservative feminist investments have enabled traditional domestic and familial responsibilities to coexist with car culture's opportunities for excitement, freedom, and individual expression.

Dorothy Woodman. The Independent Scholar. August 2019, 89-90.
Book Signings
Signed copies of Power Under Her Foot: Women Enthusiasts of American Muscle Cars available for sale at the following locations:
Thursday, October 10, 2019
AACA Hershey Fall Meet
Orange Field OBB 16-19
Hershey PA
12:30PM-3PM
Saturday, July 20, 2019
Michigan Mopar Muscle All Mopar Car Show
Bakers of Milford
Milford MI
Saturday, April 6, 2019
Points and Condensers Restoration Society
Bill Milliken Garage, Ypsilanti MI
11AM
Saturday, January 26, 2019
10AM
Hackett Auto Museum Book Talk & Signing
Jackson District Library-Carnegie Branch
Jackson MI
Thursday, October 11, 2018
AACA Hershey Fall Meet
Orange Field OBB 16-19
Hershey PA
12:30PM – 3PM
Sunday, August 19, 2018
12:45PM
Motor City Muscle Festival
The Underground at Hart Plaza, Detroit MI
Saturday, August 4, 2018
10AM – 4PM
Gene Butman Ford Car Show
Ypsilanti MI
Saturday, June 30, 2018
Camaro Super Fest
Riverside Park, Ypsilanti MI
Saturday, June 16, 2018
11 AM
Motor Muster at The Henry Ford
Greenfield Village Pavilion
Dearborn MI
Saturday, June 9, 2018
CEMA Charity Car Show
FCA Headquarters and Tech Center
Auburn Hills MI

This book can be purchased from Amazon.com, BarnesandNoble.com, or McFarlandPub.com. Those interested in a signed copy can contact me directly.