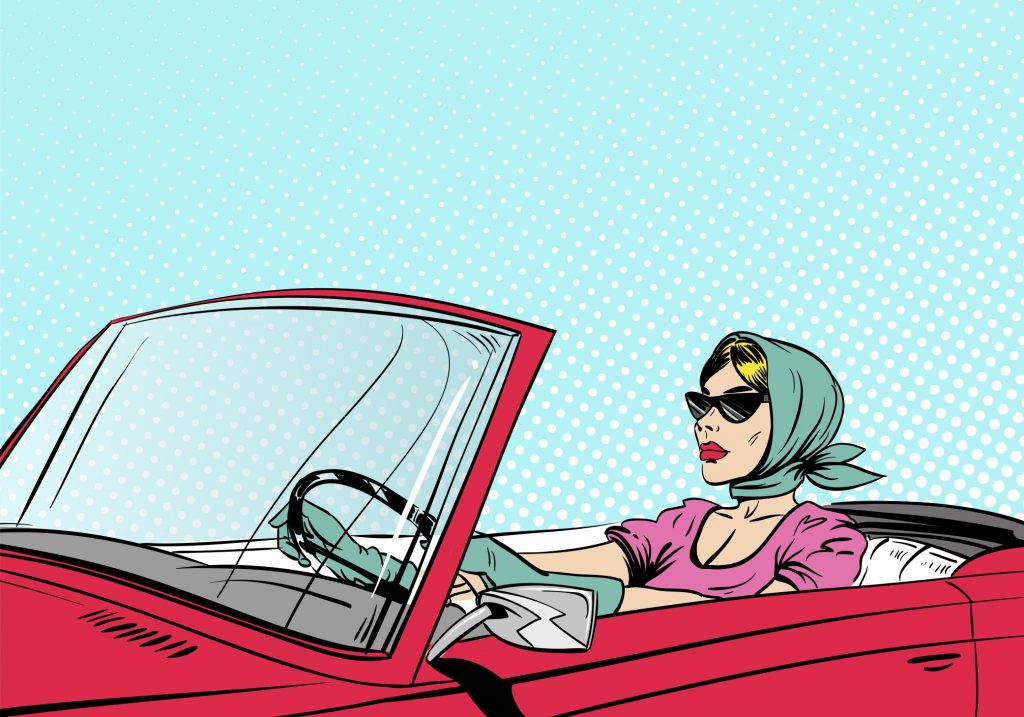 Journal Articles
"Pink Power: The Barbie Car and Female Automobility." Journal of American Culture 0 (2023): 1-12. https://doi.org/10.1111/jacc.13462
"Women and Automobiles Across Two Continents: An [Unfortunately] Brief Historiography of Women's Automotive Scholarship in Australia and America." Automotive History Review 64 (Summer 2023): 30-43.
"What Would Miss Daisy Drive? The Road Trip Film, the Automobile, and the Woman Driver." The Journal of Popular Culture 54.5 (Oct 2021): 987-1011.
"McCann & Me: One Woman's Experience in Detroit Automotive Advertising." Automotive History Review 62 (Spring 2021): 4-16.
"Born to Drive: Elderly Women's Recollections of Early Automotive Experiences." The Journal of Transport History 40.3 (2019): 395-417.
"A Woman and Her Truck: Pickups, the Woman Driver, and Cowgirl Feminism." European Journal of American Culture 38.2 (2019): 135-53.
"Where on the Web is Dorothy Haener? Recovering Dorothy Haener from Labor, Automotive, and Women's Histories." Automotive History Review 59 (Spring 2019): 34-49.
"Out on the Highway: Cars, Community, and the Gay Driver." Culture, Society, and Masculinities 7.2 (2015): 121-139.
"Women Auto Know: Automotive Knowledge, Auto Activism, and Women's Online Car Advice." Feminist Media Studies (2014): 1-17.
"Born to Take the Highway: Women, the Automobile, and Rock 'n' Roll." The Journal of American Culture 36.3 (2013): 161-176.
"Women with Muscle: Contemporary Women and the Classic Muscle Car." Frontiers: A Journal of Women's Studies 34.2 (2013): 83-113.
"The Evolution of the Chick Car, or What Came First, the Chick or the Car?" The Journal of Popular Culture 45.3 (2012): 516-531.
Book Chapter
"From Powder Puff to W Series: The Evolution of All-Women Racing." Lives in the Fast Lane: Essays on the History and Politics of Motor Racing. D. Andrews, D. Strum, & S. Wagg (eds). London: Palgrave Macmillan, 2023: 247-270.
Book
Power Under Her Foot: Women Enthusiasts of American Muscle Cars. Jefferson SC: McFarland & Co., Inc., 2018.
Unpublished
Dissertation: "Have You Heard the One About the Woman Driver? Chicks, Muscle, Pickups, and the Reimagining of the Woman Behind the Wheel." Bowling Green State University, 2015.
Master's Thesis: "Women and Car Culture in Cyberspace: Empowerment and Car Talk in the Internet User Group." Eastern Michigan University, 2009.
Reviews
Candacy Taylor. Overground Railroad: The Green Book and the Roots of Black Travel in America. In SAH Journal 313 (November/December 2021): 13.
Gary S. Cross. Machines of Youth: America's Car Obsession. In Journal of the History of Childhood and Youth 13.1 (Winter 2020): 142-144.
David Lawrence Miller. The State of American Hot Rodding: Interviews on the Craft and the Road Ahead. In SAH Journal 295 (November/December 2018): 14-15.
Darwin Holstrum & Melinda Keefe, eds. Life is a Highway: A Century of Automotive Writing. In Journalism History 37.2 (2011): 124-125.
Peer Reviews
Book Chapter: Gender, Feminist and Queer Studies: Power, Privilege, and Inequality in a Time of Neoliberal Conservatism

European Journal of American Culture

Transfers: Interdisciplinary Journal of Mobility Studies

Automotive History Review