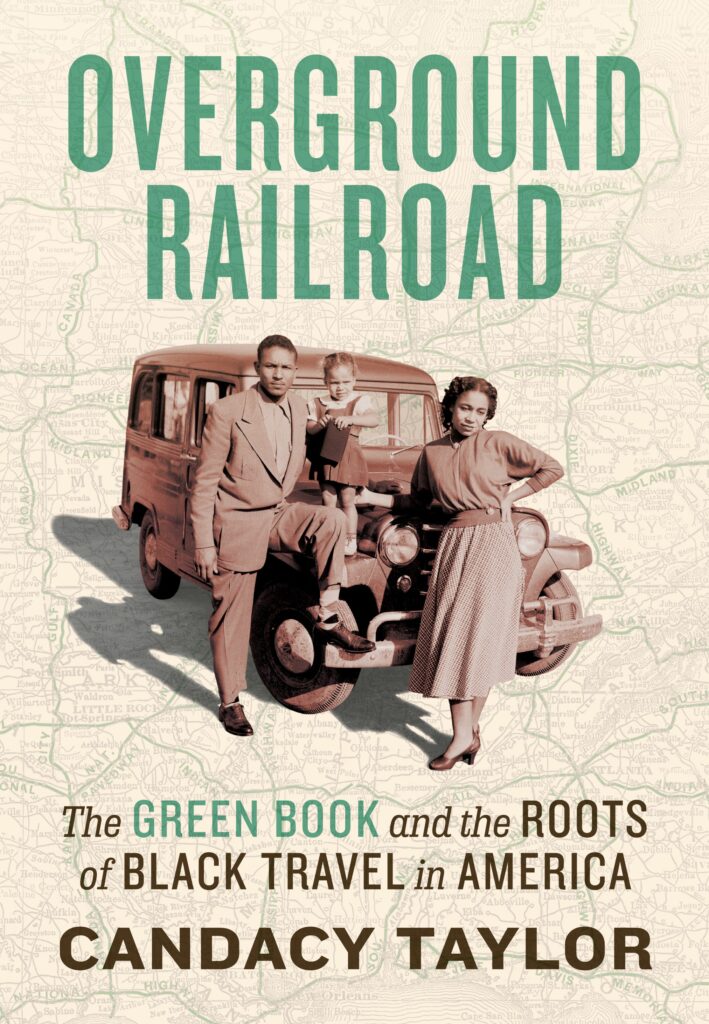 As a member of the Society of Automotive Historians, I am sometimes asked to provide a review of a book nominated for the prestigious Cugnot Award for the organization's bi-monthly SAH Journal. One of the books under consideration in 2021 was Overground Railroad: The Green Book and the Roots of Black Travel in America by Candacy Taylor. I was introduced to The Green Book through Cotten Seiler's seminal text Republic of Drivers: A Cultural History of Automobility in America while a graduate student at Eastern Michigan University; the publication came into the public consciousness with the release of the Oscar winning film of the same name. I welcomed the opportunity to read and review the most current examination of this influential and important publication. It proved to be an interesting and enlightening read. For those who may be curious about the book, I have included my review below.
Overground Railroad: The Green Book and the Roots of Black Travel in America
By Candacy Taylor
Abrams Press, NY (2020)
360 pages, 6 ½: x 9 ½" hardcover, dustcover
150 color and black-and-white illustrations
Price: $35
ISBN: 9781419738173
The Green Book – a travel guide for black Americans produced from 1936-1967 –  is the subject of two exemplary publications released in 2020. Driving While Black: African American Travel and the Road to Civil Rights was reviewed in the March/April 2021 issue of the SAH Journal and was the recipient of a 2021 Cugnot Award of Distinction. Author Gretchen Sorin focuses her account on the history of African-American car ownership and travel, particularly how the Green Book served as an impetus for black Americans to break the societal constraints of mobility placed on them since the days of slavery. Candacy Taylor, in Overground Railroad: The Green Book and the Roots of Black Travel in America, takes a somewhat different, yet equally impactful, approach. Relying on historical documents, photographs, oral histories, family stories, as well as personal visits to remaining businesses and building sites featured in the travel guide, Taylor provides a chronology of the Green Book within the context of historical events that made its publication valuable if not vital to the black community. 
The Green Book was created to address the need and desire of black Americans to engage in safe travel during the Jim Crow era. The publication's byline – 'Carry Your Green Book With You – You May Need It' – underscores the difficulties African-Americans faced when journeying away from home through unfamiliar areas. Yet as Taylor argues, the Green Book's influence and impact was twofold. Not only did the annual publication serve as an essential travel guide, but as an effective and indispensable marketing tool for black-owned businesses as well. Through advertising, grassroots promotion, and word of mouth, the Green Book assembled an impressive list of hotels, restaurants, entertainment venues, recreation areas, stores, service stations, salons, and vacation spots that offered safe and welcoming accommodations for black travelers. Taylor's examination of the Green Book is unique in this regard. For while she offers historical and first-hand accounts of the dangers of driving while black in America, she also suggests that the very need for a travel guide provided recognition as well as financial support for the many black-owned business establishments featured in each issue. This shared emphasis weaves throughout each chapter, as Taylor combines historical data and personal accounts of black travel with descriptions and photographs – many taken by the author – of the sites frequented by black individuals and families as they made their way across American roads. Taylor also includes a chapter on how the Green Book served as a source of empowerment for black women, who through advertising in the publication were able to experience a measure of success running businesses that included hotels, beauty shops, tourist homes, and sex clubs. Another chapter is devoted to the Green Book's role in the Great Migration, and how it provided information not only on safe stops along the way but also on welcoming locations in which to relocate.
Taylor holds a master's degree in Visual and Critical Studies and is widely recognized as an award-winning author, photographer, and cultural documentarian. Like much of her previous work, Overground Railroad is part of a broader project which includes the book, a traveling exhibition by the Smithsonian Institution, as well as a children's book, board game, and walking tour mobile app. In the book's afterword, Taylor includes a Green Book Site Tour, the Green Book Cover Guide, as well as recommendations for local and national activism supported by a who's who list of prominent African-American scholars, journalists, and legal experts. Taylor's overarching goal in this project is not only to examine the Green Book's influence on black American travel and black-owned businesses during the era framed by Jim Crow and the Civil Rights movement, but also to inspire readers to challenge the social and legal inequalities that exist in the present day.
While The Overground Railroad is well-researched, it is more experiential than academic, often relying on recollections of family members and black business owners, as well as observations from Taylor's 40,000 mile road trip in which she visits and documents nearly 3,600 remaining Green Book establishments and former building sites. The book's less scholarly, more familiar language and tone makes the book accessible to a wider, and perhaps more inclusive, audience. That being said, the Overground Railroad project has been awarded numerous fellowships and grants from prominent educational and cultural institutions and was named a New York Times Notable Book of 2020.
Prior to the release of the popular motion picture The Green Book in 2018, most Americans were unfamiliar with the publication from which it took its name or the need for its existence. Overground Railroad is both a timely and necessary follow-up to the Oscar-winning film. Throughout its adeptly researched and photo-rich chapters, Taylor not only documents the injustices and real-life dangers black Americans faced while on the road, but provides the impetus to create change through political activism. As Taylor writes, "I wanted to show [the Green Book] in the context of this country's ongoing struggle with race and social mobility." For the problems black Americans face today, Taylor continues, "are arguably just as debilitating and deadly as the problems the Green Book helped black people avoid more than 80 years ago" (22). Overground Railroad is recommended not only as a unique examination of a dark era of American history, but to demonstrate how, as Taylor asserts, "real change can come from simple tools that solve a problem. That is why the Green Book was so powerful" (295).