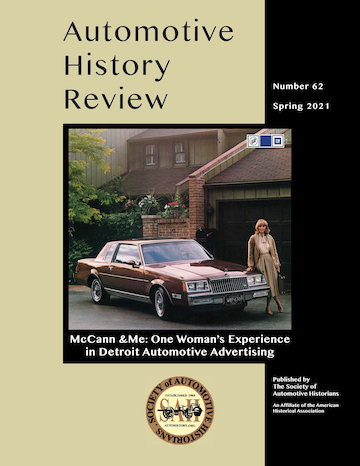 Writing about my experiences in a Detroit automotive advertising agency nearly 30 years ago was both a reflective and enjoyable experience. However, as my memory fades increasingly each year, I wasn't sure I could remember enough about my time at McCann Erickson to produce a readable and interesting article. Fortunately, I was able to connect with a couple of my former co-workers who helped fill in some of the auto – and memory – blanks. As the article notes, the time spent at McCann was both fun and frustrating. I was able to produce some good work, but was also subject to the sexual harassment commonplace in the pre Anita Hill era. That being said, what should be remembered is that the article is not meant to convey a universal experience; rather, it is a reflection of one woman's recollection of a particular time and place in automotive advertising history.
I was thrilled when asked to contribute to the Automotive History Review – the premier publication of the Society of Automotive Historians [SAH], and honored to be featured on the cover. AHR editor John Heitmann wrote this about my short piece:
Chris Lezotte lived automotive history while working in automotive advertising in Detroit during the 1970s and 1980s. She tells us her story but much more. Her fascinating piece adds considerable background to those of us who view advertising as part of the historical record. To be sure there are several key studies that help us interpret what advertising is, and whether it is a bell weather of social preferences or the shaper of consumer wants, but what Chris does is give us a down-to-earth primer of great value.
I hope those who come upon this article – available through the SAH website – will enjoy reading it as much as I did writing it.