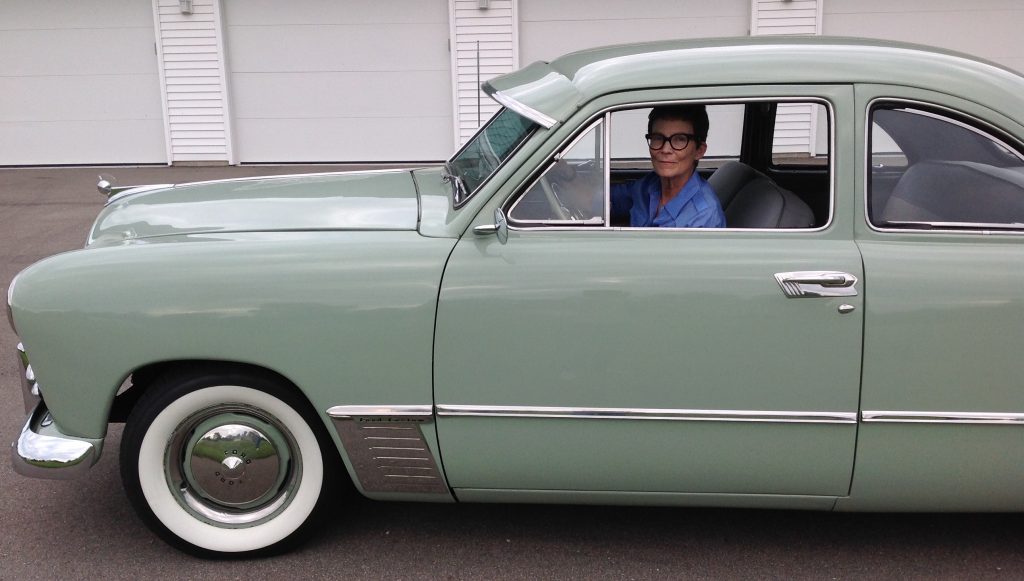 Jalopnik recently posed a question to its readers: "What car would you buy that was made the year you were born?" The query received nearly 250 responses, with answers that ranged from financially impossible choices such as a 1977 Countach LP400S to comments such as, "oh god, 1981 was a bad, bad year for cars." As for me, I am one of the few lucky folks who owns a very cool car that happened to be produced the same year I came into the world. I fell in love with the 1949 Ford when I first spotted it a number of years ago at the Henry Ford Motor Muster in Dearborn, Michigan. There was something unflashy yet soothing about the smooth lines and unique "shoebox" profile. After an intensive search, a Seamist Green '49 in fairly good condition was discovered in Pennsylvania, and after negotiations were made, was shipped to Michigan.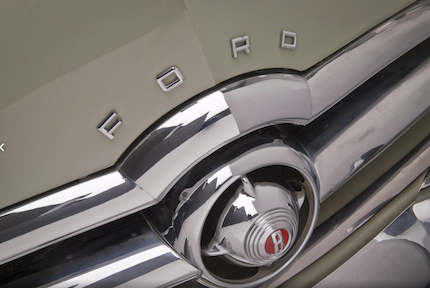 While I chose the '49 for its aesthetics, I soon discovered that in terms of automotive history, it is a significant automobile. Considered revolutionary when introduced, the '49 has often been cited as the "car that saved the Ford Motor Company." After the Second World War, auto manufacturers were stuck in the past – producing remodeled designs of the prewar vehicles. Ford beat competitors Chrysler and General Motors with an all-new car, distinguished by its "smooth sided 'envelope' body and the airplane designed 'spinner' in the center of the grill" (thehenryford.org). Although the decision to completely revamp the Ford passenger car was risky, it turned out to be a wise and profitable decision. Ford produced more than a million units its first year of production. As noted by automotive historian Robert Tate, "never had any new car been received with such whole-hearted enthusiasm from the buying public." New York Times auto writer Michael Lamm exclaims, "the '49 Ford was born of desperation. It was sleek and daring by the standards of the day; it set benchmarks for styling and packaging, and it proved to be a hit with a car-buying public that was hungry for anything new […]" The '49 established a clean, modern look that set a pattern for the Fords that followed it, and set the Ford Motor Company on a solid financial course for a number of years.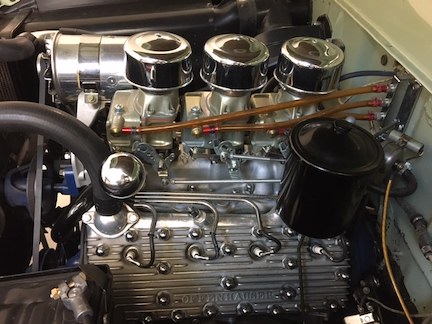 The 1949 Ford I purchased was in fairly good condition but needed work. When it was discovered that the original engine had been replaced by the previous owner, the decision was made to have some fun with the mechanics rather than attempt to restore the car to its original condition. We upgraded the electronic system, added tri-power carburetors, 'Offy' (Offenhauser) heads, and a Smitty muffler for a noisy, hot rod sound. The car was eventually repainted, and an electronic fan was installed to prevent the engine from overheating (a common problem among 1949 models.) I've taken the Ford to local car shows including the Motor Muster, even winning "Best in Class" at the 2019 Memories Classic Car Cruise-In. It can be a challenge to drive, but it is a lot of fun and gets a fair amount of attention.
When folks are puzzled as to why I chose this particular model of car, I simply tell them it's because we were both born in Detroit in 1949.
The Henry Ford. Digital Collections. "1949 Ford V-8 Coupe." theHenryFord.org
Lamm, Michael. "The '49 Car That Saved Ford Motor." New York Times 10 Sept 1999.
Tate, Robert. "1949 Ford: The Car, The Workers, and The Innovation." Motor Cities 29 Sept 2014.