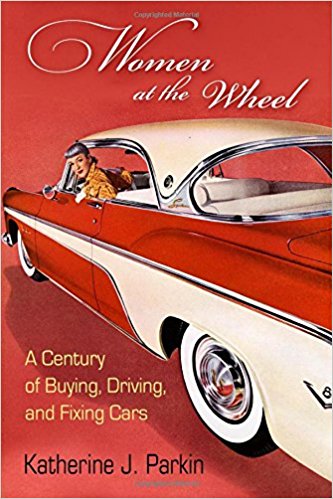 I first met Katherine Parkin at the 2018 Popular Culture Association National Conference. We were both presenting in one of the Vehicle Culture sessions, and although familiar with each other's work, we had never connected professionally or personally. Parkin's Women at the Wheel: A Century of Buying, Driving, and Fixing Cars had just been published, and I was about to release my first book –  Power Under Her Foot: Women Enthusiasts of American Muscle Cars. I was honored that Parkin had cited some of my journal articles in her book, and Parkin, in turn, was happy to meet the person whose work she cited. As there are so few of us who write about women and cars in an academic construct, it was both a surprise and pleasure to meet an individual who has contributed so much to the field. Since that meeting we have supported each other in other ways  – Parkin has forwarded peer review and article requests to me, of which I am greatly appreciative, and I have cited Parkin's work in subsequent scholarship. 
While I came to academia late in life, Parkin has made it her life's calling. A professor of history and the Jules Plangere Jr Endowed Chair in American Social History at Monmouth University in New Jersey, Parkin is an historian of considerable accomplishment. Although much of her work focuses on women's automobility, she is also the author of numerous books and articles on a wide variety of topics, including food, advertising, women in American politics, and family history. As an historian, Parkin's approach to women and cars differs from my own. Calling upon primary sources such as advertisements, women's publications, popular music lyrics, and historical records, she combines disparate parts and pieces from a variety of resources to construct an interesting and insightful amalgam of women's involvement with the automobile. In 2018, Women at the Wheel was awarded the Emily Toth Award for the best book in feminist popular culture; just recently, the Henry Ford Learning and Engagement Center named it one of the most informative and influential contributions to women's automotive history, serving as a post war bookend to Virginia Scharff's groundbreaking Taking the Wheel: Women and the Coming of the Motor Age.
In her most recent women-and-car themed works, Parkin provides an alternative history of Alice Ramsey, and examines the efforts of early manufacturers of luxury vehicles to attract the female buyer. I look forward to her next project, and am thankful we had the opportunity to meet a few years ago.
Below is a list of Parkin's scholarship devoted to the relationship between women and cars.
"'Bring Them Back Alive!': Fear and the Macabre in US Automobile Tire Advertising," Advertising & Society Quarterly 18 (1) April 2017: (published by Johns Hopkins University Press, available through Project Muse).
"Driving Home Class Status: Women and Car Advertising in the United States," Advertising & Society Quarterly, June 2019.
"Alice Ramsey: Driving in New Directions," New Jersey Studies, July 2018.
"The Key to the Universe: Springsteen, Masculinity, and the Car," in Bruce Springsteen and the American Soul: Essays on the Songs and Influence of a Cultural Icon, edited by David Izzo. Jefferson, North Carolina: McFarland & Company, Inc., 2011.
Women at the Wheel: A Century of Buying, Driving, and Fixing Cars. Philadelphia: University of Pennsylvania Press, 2017.