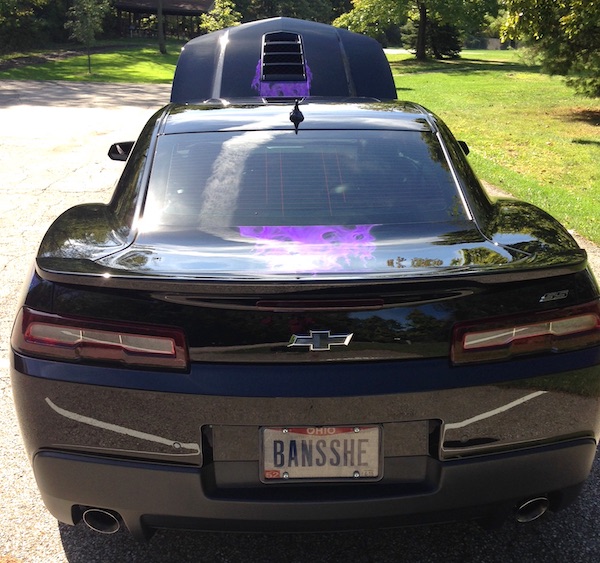 In a recent Jalopnik article, auto writer Elizabeth Blackstock expresses frustration at her inability to determine the perfect name for her soon-to-be purchased car. She lists a number of possibilities, but ultimately finds them to be lacking in one way or another. Blackstock implores her readers to come to her aid not through suggestions for her own automobile, but to provide stories of how, why, and what their own cars were named as a means of inspiration. She received a great number of responses – funny, irreverent, and personal – which suggests that car naming is a popular activity among devoted car owners.
In my research focused on female muscle car ownership, I discovered that women often name cars as a way to claim ownership and display a personal identity. As Driving Passion: The Psychology of the Car authors Marsh and Collett write, 'naming is a particularly strong way in which to announce our attachment to something which is much more than just an object' (13). Because the muscle car has a longstanding and engrained association with masculinity and the male driver, car naming becomes an important way for the female motorist to proclaim 'this car is mine.' In order to assure that ownership of a 1965 red Mustang convertible was attributed to her rather than her husband, a 47-year-old analyst attached a personalized license plate inscribed with a girly moniker on the back bumper. Car naming also allows women to call upon shared automotive qualities to project identities. A 47-year-old teacher had 'She Devil' air brushed prominently on both her 1989 RS and 2001 Berger SS Camaros. As she noted, 'I get the funniest comments about that. "So is that the car or the woman?"' A 29-year-old New Zealand native, whose 2010 Camaro SS RS is adorned with bumble bee imagery and carries the license plate 'Kiwi Bee,' has taken identification with the car to a whole new level. As the automotive product manager explained, 'I'm constantly accessorizing myself to match the car. My computer laptop bag is yellow; I have a yellow purse; my fingernails I paint yellow and put black bowties on them.' [1]While the owner is proud to own an iconic symbol of American muscle, the name on the license plate assures that others know who she is and where she came from.
Women often name cars as a way to connect to an individual from the past, or to establish themselves firmly in the present. A classic Mustang owner often accompanied her father to his job as a mechanic when she was a girl. As she remarked, 'I remember going into the garage where he worked, and I just loved the smell.' After his passing, she decided to honor him and his love for cars by using his childhood nickname for her on the automobile's personalized license plate. The 51-year-old executive director of a non-profit likes to think of herself as a 'badass' when behind the wheel of her 1966 Chevrolet Impala. As she exclaimed, 'I identify my car as female; she has a name and she is a badass, too.' Marsh and Collett claim that American drivers often use specialized license plates to draw attention to themselves. As they assert, for some drivers the vanity plate 'serves the role of a personal testimonial, displaying the owner's sense of humor or his ability to challenge the wits of other drivers' (75). A 54-year-old 2014 Chevy Camaro 2SS/RS owner calls upon a vanity plate to express the identity she claims – BANSSHE – when behind the wheel. When a 50-year-old school bus driver pulls into a car show in her Frost Blue 1968 Plymouth Barracuda with a personalized 'princess' vanity plate on the front, attired in an ensemble color coordinated with her car, she is not only announcing herself as the owner of the vehicle, but is suggesting she is as 'flashy and out there' as the car she drives.
Marsh and Collett argue that the original muscle car served as a 'standard form of uniform' for young men; embellishment provided the opportunity to 'transform the vehicle into social statement"' (93). The women in this project call upon naming and marking to identify with a category of automobile historically associated with the man behind the wheel. In doing so they make the car their own, and project a revised and reimagined image of the woman driver.
---
[1] 'Bowtie' is the common term used to refer to the Chevrolet logo.
Blackstock, Elizabeth. 'What Did You Name Your Car?' Jalopnik.com 3 April, 2021.
Marsh, Peter and Peter Collett. Driving Passion: The Psychology of the Car. 2nd ed. Winchester MA: Faber & Faber, Inc., 1989.