I continued my investigation of women's representation in automotive museums by stopping by the R.E. Olds Transportation Museum in Lansing, Michigan. As I work my way through this project, I am discovering that the focus of a particular museum is most often determined by the interests and intention of its founders. While the museums I have visited thus far have been structured around either a place or a collector's interest, the Olds Museum – like its name – is an automotive collection assembled based on a major car manufacturer and the man who lent it its name. The layout of the museum reveals its two identities: first, as a [literal] road through early Oldsmobile history, and second, as a looser collection of more recent Olds automobiles, additional REO endeavors, artifacts, related businesses and industries, and a bit of 1950s car culture. While the first section of the museum is tightly organized, the large back 'dealership' room is a little more hodgepodge, encompassing a wide variety of Olds, GM, Fisher Body, and tangential industry paraphernalia.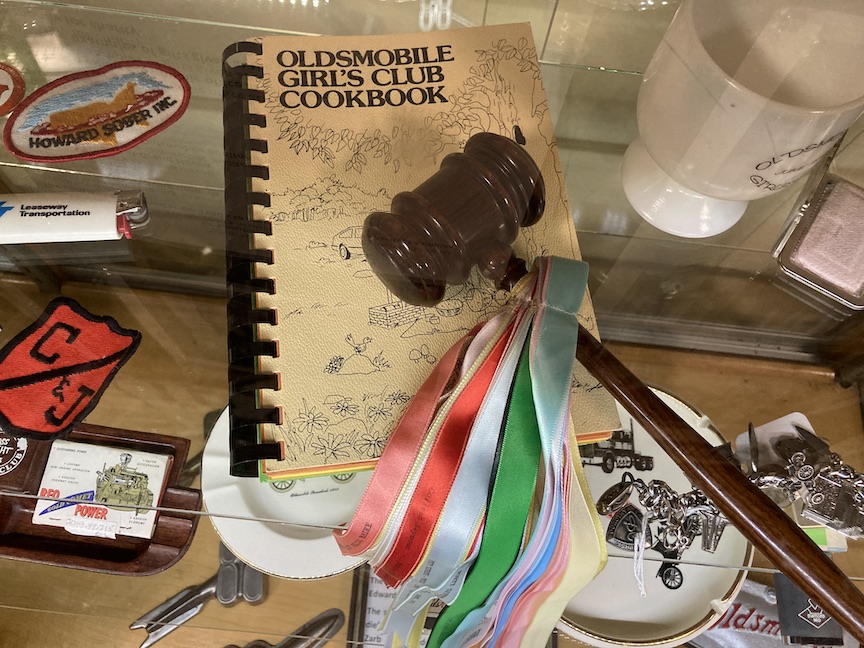 Because the museum is centered on a man and a car, women are not well represented. Like many of the museums I've visited, [visual] references to women are primarily related to fashion. There are many female mannequins placed throughout the museum garbed in the styles of a particular time related to the automobile. Other references to women include those who have donated vehicles to the collection, advertisements and promotional material, photos of [unidentified] female factory workers, and ephemera [such as employee nametags]. A glass case includes a small display of items related to the Oldsmobile Girls Club – a 1950s-60s women's community organization – that includes photographs, programs, mugs, sewing kits, charm bracelets, vanity items, ashtrays, and a cookbook.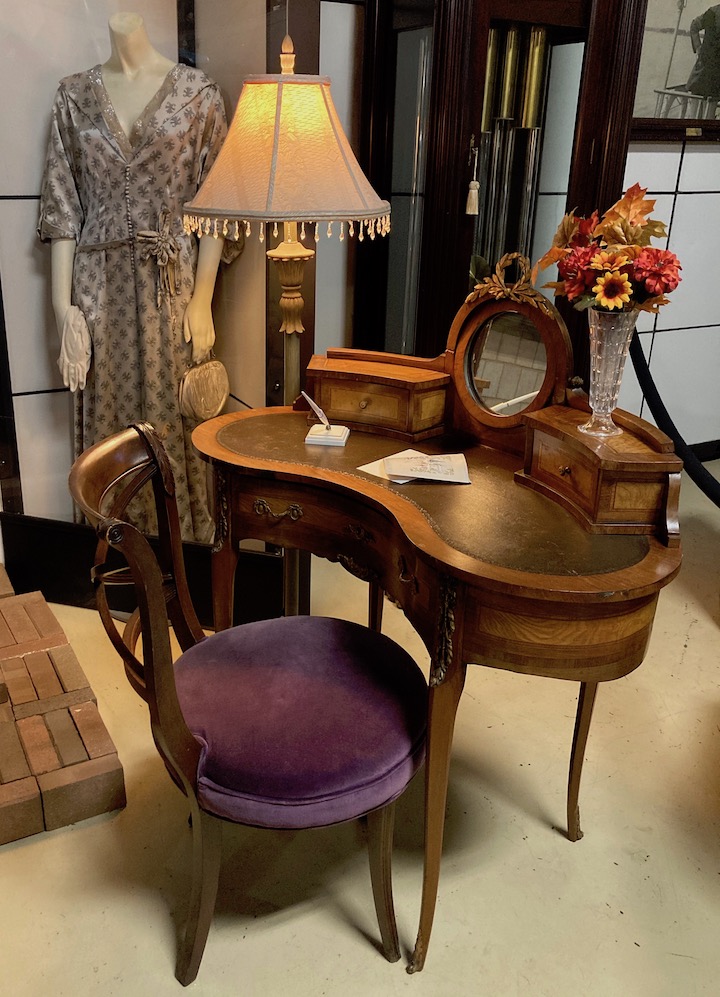 While women – as workers, drivers, and club members – take a back seat to the major automotive leaders on display, there are two that are named, and thus deserve special attention. The first is Metta Olds, who was married to Ransom, popularly known as 'R.E.' The tour through the museum begins with a focus on the Olds family and homestead. Much of that is devoted to Metta – photos, family trees, furniture, personal items, and clothing. Metta was very much a silent partner and supporter of her husband; a book titled Loves, Lives, and Labors was written about their strong relationship and Metta's roll as 'woman-behind-the-man'. While, as the wife of the founder, Metta could easily be referred to as the 'First Lady of Oldsmobile', that title was, in fact, bestowed on Helen Earley, a longtime employee who, through a number of positions, created a position for herself as the resident Oldsmobile historian. Automotive historian Robert Tate writes that Earley, as a scholar, historian, and archivist, 'contributed a great deal of knowledge to the automotive community.' During her career, Earley and another retiree helped establish the Oldsmobile History Center. She also co-authored two books on Oldsmobile history: Setting the Pace: Oldsmobile's First 100 Years written with James R. Walkinshaw, and Oldsmobile: A War Years Pictorial. Earley was also one of the founding task force members responsible for creating the R.E. Olds Museum; she also served as a board member for the National Automotive History Collection, the Library and Research Center for the Antique Automobile Club of America, and was a recipient of the prestigious James J. Bradley Award from the Society of Automotive Historians. This award recognized the 'Outstanding contributions to the preservation of historical materials related to the automobiles produced by Oldsmobile and for the spirit of helpfulness to writers, researchers, historians and restorers'.
Despite Earley's importance to Oldsmobile history and the museum, one has to search to find out anything about her. There is her name over the board room, a portrait on the board room wall, and a card clipped to a driving outfit on one of the displays. I finally discovered a glass case containing some photos and her self-authored obituary in a hidden away corner of the 'dealership' room. Although recognized as the designated 'first lady', Earley receives what can be described as second-class attention.
The RE Olds Transportation Museum was an interesting stop on my tour of automotive museums. While the collection focuses on a specific individual and the company he founded, women's unique contributions to Oldsmobile can be uncovered if one looks hard enough.