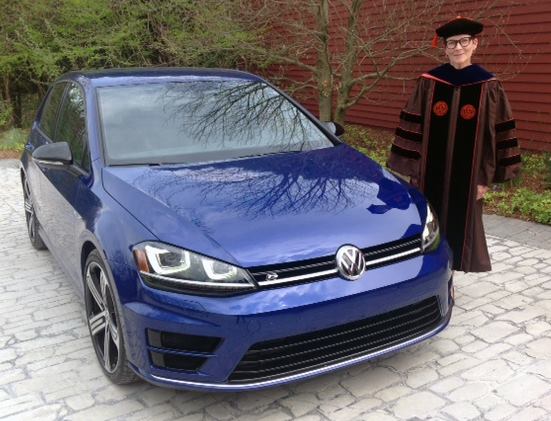 Over the course of many car projects, I often find that female car enthusiasts are loyal to a particular automotive brand. This is particularly true in my hometown of Detroit, where folks often have friends or relatives who work for an automotive manufacturer in some capacity. In fact, it is frequently said that folks in Detroit rarely pay full price for a vehicle as they can somehow someway take advantage of someone's employee discount. I myself am guilty of this practice, having purchased a few Ford vans through my late brother-in-law's A Plan and a friend's Chrysler 'Friends and Family' discount. It is not surprising, therefore, that the majority of Southeastern Michigan women I interviewed over the years are fiercely loyal to cars from one of the Big Three – Ford, General Motors, or Chrysler.
In talking to women in their 80s and 90s about their early automotive experiences, I discovered that those outside the Detroit area without a familial connection to a particular automaker had less compunction about switching automotive allegiance. Many started out with American cars – as that was pretty much all that was available at the time – but switched to Japanese imports for reasons that had to do with reliability, economy, trade-in value, and a size more conducive to female proportions. Once converted to Japanese models they rarely looked back. Although under some pressure from husbands to buy American, these women had decided what automotive qualities were important to them and became loyal to the brand that fulfilled them.
I recently came across an article about a gentleman who has taken brand loyalty to an extreme, having owned 42 Volkswagens over his lifetime. He has passed on his preference to the VW brand to family members. Of course, the fact that he worked as a VW Technician certainly provided access to vehicles, taking them on as project cars and then selling them afterward to fund his next project. I, too, am a Volkswagen fan, although not to the extent of this VW enthusiast. But I have always preferred German cars; their superior handling ability and performance and smaller size makes them exceptionally fun to drive. I also appreciate their aesthetics – the simple lines and clean, well-designed interiors contribute to a pleasurable driving experience. My first car was a 1970 Beetle; I currently drive a 2015 Golf R. In between – other than the Ford vans purchased as 'dog vehicles' previously mentioned – I have owned a Scirocco, VW Beetle Convertible, Rabbit, Audi S4 Cabriollet, and Audi A3. Living in Michigan, I have often been disparaged for my unAmerican vehicle choices. But I know what I want, and what I like to drive, and that's a German car.
While some women, like me, tend to repeatedly purchase cars with similar qualities and monikers, others enjoy experiencing a variety of makes and models over a lifetime. Yet what is important is not what 'camp' a woman finds herself in, but that as purchasers of 65% of cars and influencers of over 85% of car purchases, women have the power and ability to make their own automotive decisions (Newman). Unlike the first half-century of automobility, when car choices were limited and often male-influenced, women can now look to cars not only as practical necessities, but also as vehicles that display who they are and what is important to them.
Newman, Jennifer. "It's True: Women Really Do Shop More for Cars." cars.com 31 May 2019.
Padeanu, Adrian. "'Insane' Person Has Owned 42 Volkswagens in His Lifetime." motor1.com 04 Sept 2020.