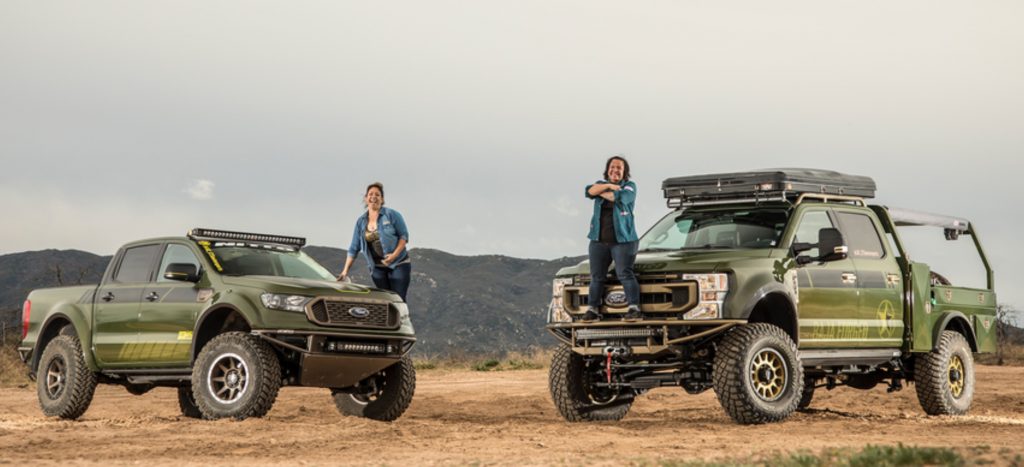 Women are a growing segment of pickup truck owners. This is evident in advertising, as the dominating narrative of trucks and masculinity has witnessed a slow but steady introduction of women behind the wheel. Female auto journalists are now as likely to review a pickup as an SUV or minivan. Manufacturers often emphasize "female friendly features" when promoting the latest F150, Silverado or Ram. In my own work, I noted how women often take on a 'cowgirl' persona as a means to become accepted within pickup truck culture. 
As a recent Road and Track article asserts, women have also successfully entered the historically male bastion of custom truck build and design. Two sisters from California, who grew up helping their parents in a family-owned collision and body repair shop, took over the business when their parents retired. With no sons to carry on the business, this mom and dad encouraged their young daughters to become involved in the care and building of cars. With the help, business sense, and hard work of their two truck-savvy daughters, what began as a small shop in the home garage now occupies a 10,000 square foot facility.
The Road and Track article reflects a common theme among women who achieve success in auto-related endeavors. As I noted in a number of past projects regarding women's participation in automobile cultures traditionally associated with men, women who gain hands-on automotive experience at an early age – from fathers, mothers, brothers, and boyfriends – are as likely to become involved with cars in some capacity as young men with similar backgrounds. Working on automotive projects together with family members can encourage bonding and a sense of shared purpose. Such automotive togetherness can lead to the accumulation of auto knowledge, confidence in one's skills, and pride in hard work. 
Theresa, the oldest daughter, left the business for a few years to acquire additional skill sets. She worked for a machinist during the day while attaining a graphic design degree at night. She returned home with new skills and new ideas, helping the business to grow and prosper. Theresa's out-of-the box design skills have redirected the business from repair work to complicated custom builds. Now that her parents are retired, Theresa shares the running of the business with her husband and sister Sara, continuing the family tradition. 
The sisters have gained a reputation as skilled, hard-working, and creative. Their vehicles are presented at SEMA to great acclaim. The gone beyond the shop floor to give back to the automotive community in numerous and valuable ways. They have made a name for themselves, and the family business, in the very masculine world on custom built trucks. In doing so, they have demonstrated that given the proper training, encouragement, and opportunities, women can not only drive pickup trucks, but they can successfully, creatively, and expertly build them.